UPVC - Steel reinforced fencing Posts and Gravel Boards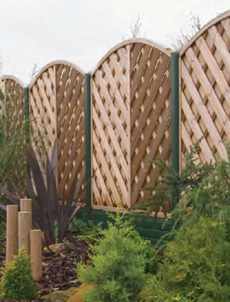 Revolutionise your outdoor living space with the innovative range of PVCu garden fencing systems from Southern Decks. Our stylish products offer an attractive alternative to more traditional fencing products.

Our range of PVCu fence posts and gravel boards can be installed in exactly the same way as concrete or timber products, but they offer a more flexible and durable solution.
Traditional Concrete Posts and Gravel Boards weigh between 45-70kgs - equivalent to an average mans weight - Our UPVC Posts and Gravel Boards weigh less than 6kgs.


Our fencing systems are available in a variety of fence style options, including picket, ranch as well as post and picket.



Our fence posts contain a galvanised steel core for extra strength - Only available in 8' and 9' length posts
Join the Plastic Fencing Revolution - No more rot! No More Paint!
No more Hassle!
Our vinyl fencing systems consist of Posts and Gravel Boards available in a choice of colours – white, beige, green or brown – a unique concept in the marketplace.
The coloured fencing can be combined with our PVCu decking products to create your own co-ordinated customised design, and bring a touch of colour to your garden space.
The PVCu is colourfast, ensuring it retains its attractiveness over years to come... and is the wise choice!
Click on image to enlarge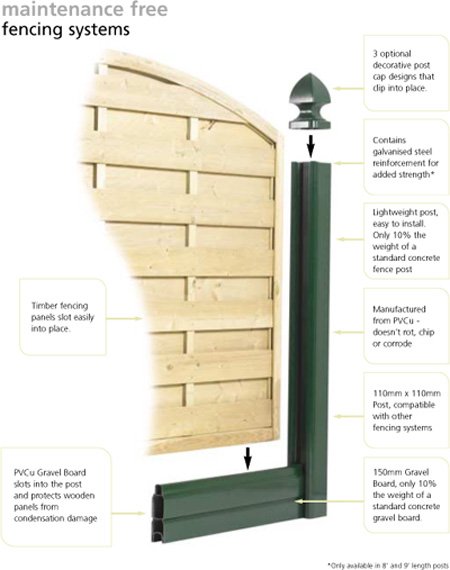 Click on image to enlarge
Key benefits over traditional timber or concrete systems:
• Lightweight
• Maintenance free
• No specialist installation equipment required
• Does not rot or rust
• Colourfast
• Environmentally friendly
• Manufactured from recycled products
• Does not crack, break or corrode
• Strong enough to withstand storm force winds
• No risk of splinters
• 100% weatherproof
• Durable
• Easy to Install
Variety of Fencing Solutions - Our Extra Strong Posts are Designed to take Wooden panels as well as PVC alternatives.
Our PVCu Fencing Sytem is manufactured from a specially engineered lead-free vinyl compound and will not warp or rot and requires no maintenance other than an occaisional wipe. This means the appearance of your fencing will be less weathered after years of use than traditional wood. Non-toxic chemicals are used , so it is safe for both people and pets. Made from pure vinyl compound, the fence is also 100% recyclable. Our fencing posts are also incredibly strong and able to withstand the elements...and the occaisional elephant.
Call Us

Three Buying Options...
Easy
We offer 3 options to Buying your Fencing.
Simply Select the option that best suits your needs.
One
Option One - Order to collect!
Order all your PVCu Fencing components from us, then coolect it at your convenience.
Two
Option 2 - Order & Deliver
Tell us what you need and we will order and deliver your fencing .
Three
Option 3 - Full Service...
Supply and Install - Our friendly installation team of experienced professionals will construct your new fence quickly and efficeintly.
Don't delay call us now... to enjoy your beautiful new fencing.

Fencing Brochure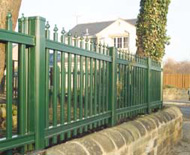 Simply maintain your PVCu fencing with hot soapy water - no further maintenance is required to keep your fence looking great.

To enhance the fencing system further, we offer a wide range of decorative accessories, including lamps, decorative post caps and wrought iron style scrolls, to help you make the most of your new outdoor space and
provide a relaxing safe and secure environment.
Portsmouth, Fareham, Southampton, Petersfield, Chichester, Bognor Regis.
Contact Us
Serviiced Offices ONLY: New Barn Farm, Funtington, Chichester, West Sussex, PO18 9DA
Telephone: 023 9311 6938
info@southerndecks.co
.uk
Clients Services