Static Caravan Accessories: steps, ramps, and gates.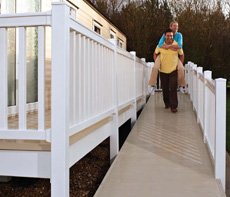 Enhance the enjoyment and value of your Static Caravan or Lodge; choose from our selection of Stairs, Ramps, Gates and Lights.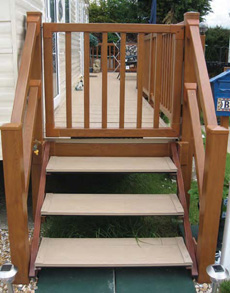 Custom made Gates and Stairs designed and made to enhance your Static Caravan or lodge decking.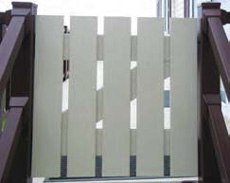 A variety of Gate designs to choose from. Ask about our stand alone Gated entrance porch decking, ideal for Static Caravans.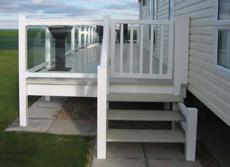 Hand rails come as standard and are designed to match your existing static caravan or lodge colour scheme.
Steel Sub-Frame Specialists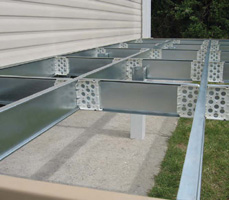 Although we offer a the choice of standard timber sub frames we tend to specialise in Steel for extra longevity - our galvanised steel sub-frame options fro Fensys an Liniar create the ideal base on which to build a verandah. By reinforcing the posts and ballustrades with steel, there is no timber to create a fire risk or to rot in damp conditions. The steel sub-frame is simplicity itself.
Get a Quote
Why You Should Consider Decking From Southern Decks
WHY USE US? We build high quality, solid single structure decks! This means our upright Ballustrade Posts are full length and reinforced for extra strength - and NOT built in TWO sections i.e. the platform first and then bolt-on the ballustrade!
See how we compare in price - get a free Quotation! We also offer steel subframe and reinforcement as an option!
See our Customer Comments!
WE ARE APPROVED Installers and Suppliers
We are suppliers of the highest quality Decking and Verandahs for Static Caravan Mobile Homes and Lodges. Choose from our range of decking products, from premier manufacturers such as Liniar; our build quality has been assessed as second to none! We are also specialists in steel sub-frame decking - compliant with new Fire Regulations.

For Great Savings...fit the best! See our Testimonials from our customers
See More about our New 0% wood Composite Faux Timber Deck Boards 25Year Guarantee - "The most amazing deck boards I have ever seen - I can't believe its NOT Wood!!"
As Independent, Distributors, Suppliers and Installers of Decking for Static Caravans and Lodges, we are NOT tied to a single manufacturer, nor are we restricted to using our own products only. This means we can choose to supply from only the best in the Industry which means that our customers not only recieve the best decking materials but also an excellent, reliable and fast installation service.
Choose Southern Decks - the intelligent choice for your Static Caravan or Lodge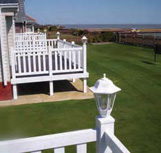 Durable and Hard Wearing Materials OnlyWe supply only the finest, best quality vinyl -UPVC decking materials accredited and tested to high Industry standards ISO 9001:2008. Sourced from established and reputable industrial manufacturers, with decades of experience - ensuring you install only the very best on mobile home static caravan or lodge...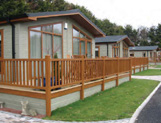 A Variety of Ballustrades and Railing Styles
All our decking products are designed with you the customer in mind, with over 12 years of decking design experience we only supply and install the highest quality railings to enhance your lodge or static caravan...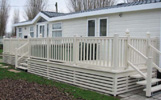 A Variety of Skirting Options
For the ultimate finish, compliment your static caravan veranda with attractive vinyl skirting. It not only enhances your veranda, but effectively combats the effects of wind blowing detritis under your static caravan...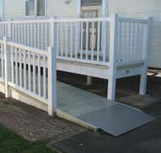 Enhanced Disability Access
Disability access is now a requiremnent by law and can easily be implemented with our simple easy to install ramps, offering greater access to your Static Caravan or Lodge. We also offer a bespoke service to suit your requirements for steps and ramps...
Caravan Veranadahs have proven to enhance and improve the desirability and the overall caravan value; either rental or re-sale.
See Our Brochures
Southern Decks uses Liniar, Deck Lok, Fensys,Twinson, & Brock Deck Systems. These high quality PVC vinyl products can be viewed by downloading one of the product brochures below.


Request our New 2013Decking
Price List
Official Decking Supplier to Channel 4 - find out more
The New Season has started - get a Free Quote for your new Decking now!
We Supply and Install: Vinyl, Composite and Timber, Decking.
Find out more - call us now!
One
GET A FREE QUOTE - Just call us for a Quote or use our helpful Quote request Form
We offer a free phone number to call us 0800 840 7421.
OR
Use our easy to useQuote Form - just clickQuote Form
Two
Confirm Your Quote
Once we have provided you with our highly competitive Quote. Simply confirm your decision and we will arrange to deliver and Install your new Static Caravan Decking. Usually within two weeks!
Three
Payment Options
We offer a range of payment options to suit you.
We accept Credit and Debit Cards, cheques, bank transfers and cash:
Call us now!
Please note that all our decking is custom built to fit your static caravan or lodge.
Once you place your order your decking will be available within two weeks and installed within 1 - 2 days.
We look forward to being of assistance to you.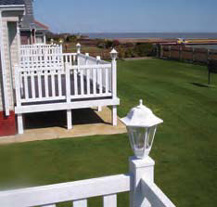 Contact Us
Serviiced Offices ONLY: New Barn Farm, Funtington, Chichester, West Sussex, PO18 9DA
Telephone: 023 9311 6938
info@southerndecks.co
.uk
Clients Services